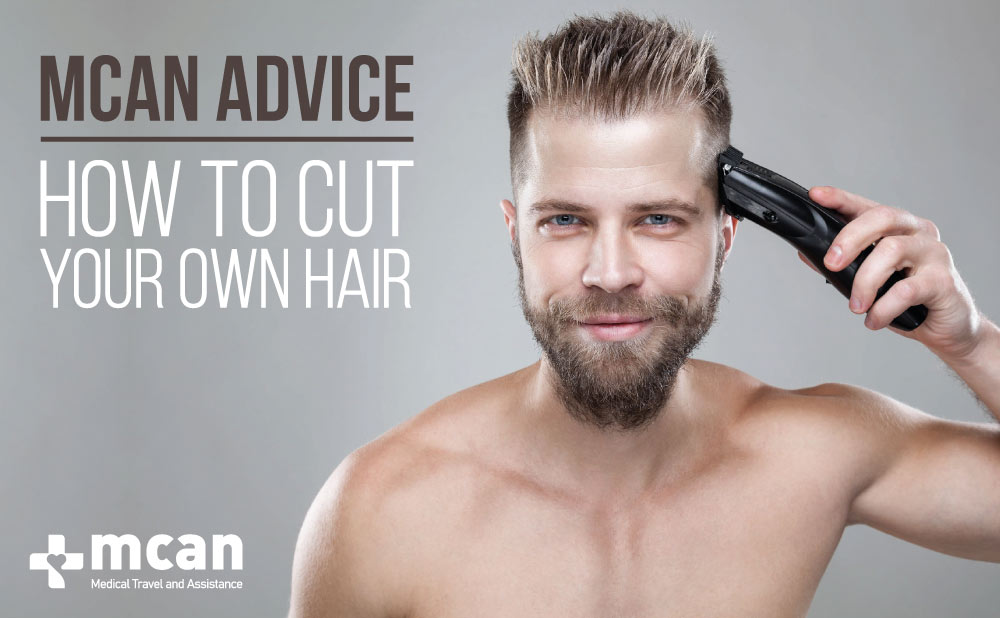 If there is one thing the pandemic has demonstrated to all of us is that we cannot always go to the hairdresser. Knowing how to cut your own hair has become a fundamental skill, as people have come to realize it will save them from reliving the uncomfortable caveman situation coming up with the next pandemic.
It's never too early for pre-apocalyptic preparations. Also, the amount of money and time you can spare by cutting your own hair is not negligible. Do you know the famous saying: 'marry a man/woman if he/she knows how to cook'? How about 'marry him/her if they know how to cut your own hair'?
Now, that's real marriage material.
Should you really cut your own hair?
Make no mistake about it. While cutting your own hair, things can go very wrong, very quickly. Ask yourself: am I ready to put up with the consequences of it not going as I expected? What if you have to shave your head like a billiard ball?
As Napoleon's war quote goes: plans never survive contact with the enemy. The enemy here is yourself. You might think you are as good as the Zohan when it comes to producing magic with the scissors, but the truth is you probably aren't. And your first ever experience can very well end in a complete disaster.
So make sure you experiment on your partner before cutting your hair.
WARNING
Jokes aside, the best thing you can do in this situation is actually NOT to cut your own hair. Hairdressers are professionals for a reason. Besides their countless years of experience and training, they also have a clearer perspective of your head, being, as they are, not you.
But for all of you fearless kamikazes ignoring my disclaimers, the second best thing you can do is to carefully follow my advice and potentially save your (hair) life.
You will thank me later.
Best Ways to Cut Your Own Hair
It is clear. You actually want to learn how to cut your own hair despite there being barbers in almost every corner of the world. You're an adrenaline junkie. And I like you.
So here are some survival instructions for nutcases like you.
1- Do NOT Wet Your Hair
Isn't it a brilliant idea to copy professional salon hair-cutting techniques? You have seen hairdressers doing it, and you keep thinking you are the Zohan, so you are really considering wetting your hair before cutting it. It seems harmless, right? It looks easy, right? Don't do it.
2- Get Appropriate Equipment
If you really are going to cut your own hair, do yourself a favor and don't use kitchen scissors. You don't have to use samurai blades like professional barbers, but at least get something built for the same purpose. Further add to the kit:
A Magnifying Mirror: it would be best if you could attach it to a wall, and even more so if it can rotate. It will allow you to cut the areas where you have lesser visibility of your own hair.
No-Slip Hair Clips: These will be very handy when it comes to dividing your hair by layers and making a dégradé cut.
A Hair-Cut Comb: Do I really need to explain why you need this?
3. Tips for Women
First and foremost: don't let your husband cut your hair. It doesn't matter how confident he seems about it. Also, cut less hair than what you think you should. Don't go all Britney on your beautiful head! If you only want to cut 2-3 centimeters, comb your hair down and cut the tips obliquely. If you want something more sophisticated, section your hair, part it along the middle, take a deep breath, and pray to God. You might also want to do yourself a favor and check out some good YouTube videos instead of a lousy post with just a few of images.
4- Tips for Men
Everything is always easier for men. Just two words: Hair-Clipper. Your new best friend. At the moment, a fashionable hairstyle is shaved hair on the sides and back while kept longer on top. If you want to go for this, make sure you clip your hair or section it on top of your head so you can trim the sides and back without going too high up with the clippers.
How to Cut Your Own Hair When Balding
Some of you might also be wondering about how to cut your own hair when balding, or how to cut your own hair after a hair transplant. If you are experiencing severe hair loss, I suggest you trim your hair short and don't proceed with any combs or hiding. If you have already gone for a hair transplant, I suggest the opposite: go to a barber's and make sure the cutting is done with scissors, as gently as possible. And remember: you look dang sexy my balding amigo.
---
---