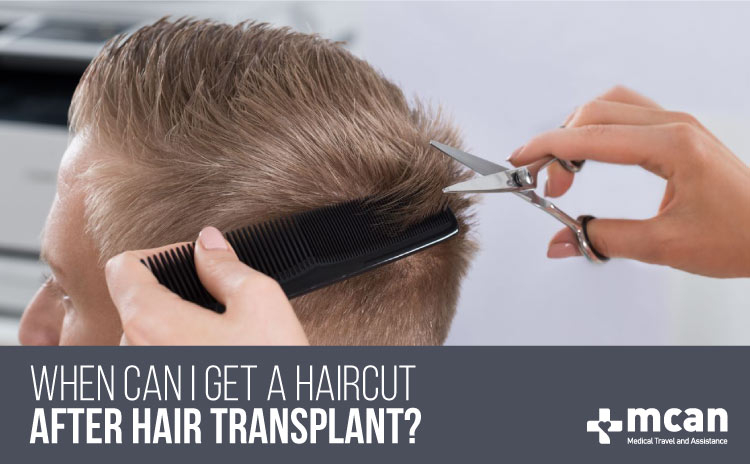 You must have talked about the hair loss experience you have or had with your barber. Also, as the hair loss gets more intense, your barber may suggest alternative cuts to get the best look with the hair you have left with. Most of our patients emphasize their dissatisfaction with their barber experiences after the hair loss. Luckily, a hair transplant is also a solution for such problems.
After the hair transplant, you can return to your old haircut routine after you get your hair back. It will be just like the haircuts you had before the hair loss. We have also observed that our hair transplant patients cannot wait to have their first haircut to design a hairstyle they want for a long time.
So, one of the most frequently asked questions about the procedures after a hair transplant are:
When Can I Get a Haircut After Hair Transplant?
What is the best haircut after hair transplant?
Let's read and learn all about haircuts and hair transplants now!
You Should NOT Have a Haircut Right After Hair Transplant!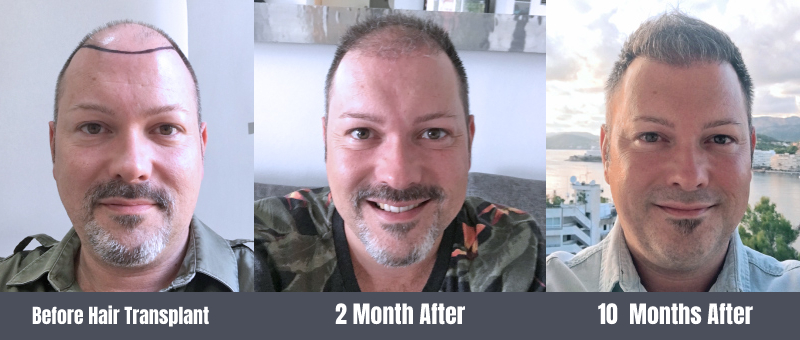 Suppose that you have just had a hair transplant. You will hear the word "hair transplant aftercare" a lot. It is because you need to be extra careful for a while and follow the aftercare instructions properly to have the best result. So, before planning to have a haircut, you should know that even washing your hair must be done delicately.
Due to the time needed for grafts to be fully settled, your scalp will need special attention. After around 10 days, the transplanted follicles will be located in a stable position and seal themselves with the skin. Until they are fully sealed and the scalp is recovered from scabbing, scarring and redness entirely, it is better to wait for a while.
You are expected to use your special shampoo in the first month for your hair wash and you need to be gentle with your scalp. Also, no hairdryer but only a towel with gentle movements after the wash. You can read our article if you want more information about hair wash: How to Wash Your Hair After Hair Transplantation?
Haircut after FUE
After a while, you will see that the hair you already have before hair transplant will begin to grow and the speed of growing for normal hair will be faster than the FUE transplanted hair. If you don't like the look of your hair due to the difference in growth speed, you can get a hair cut, but only for the donor area, not the transplanted hair. It is also ideal to wait at least 3 weeks before any kind of haircut.
You Can Get a Haircut after Shock Hair Loss JUST with Scissors!
Your transplanted hair will also start growing after the second month but the hair will be much thinner than the rest of your hair. After a short time, they will fall for the last time. This is a condition called Shock Hair Loss and just like baby teeth, the new hair will fall to grow back with more density and thickness.
The new hair will be immune to any kind of hair loss and it is absolutely permanent. After you get the thick hair after the shock hair loss, it is possible to have a haircut, but only with scissors for a while.
As we said before, the transplanted grafts are very delicate at first. So although after they are sealed and secure, getting a haircut with a shaving machine may harm the transplanted hair follicles as it doesn't work like scissors.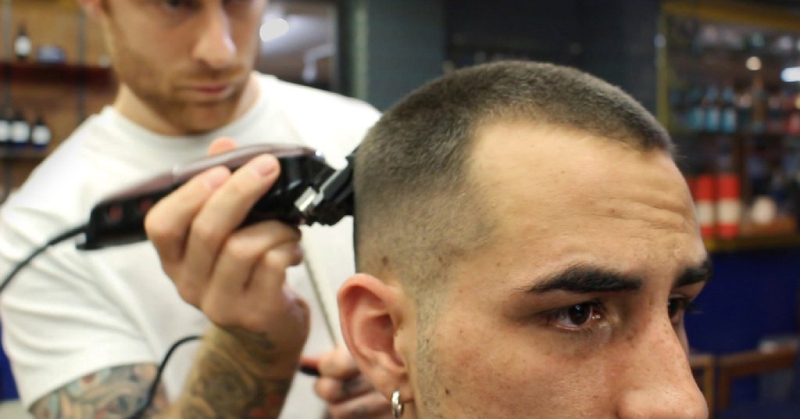 Feel Free to Have a Buzz Cut with Shaving Machine after 6 Month
Scissors can cut the hair within a certain distance while the shaving machine needs to be close to the skin. So, if you want to use a shaving machine for your haircut after a hair transplant, you should better wait for 6 months to have a totally risk-free haircut.
Can I Dye My Hair after Hair Transplant
This is another popular question asked by many patients after hair transplantation. The answer is: Yes! Obviously, you need to use certain chemicals to dye your hair and they may harm the skin of your scalp in the first weeks of your hair transplant. It is because after the hair transplant procedure the skin on your scalp will be much more sensitive. However, after your first month, it may be okay to color your hair, but if you can wait for 6 weeks, it will be much more risk-free.

At MCAN Health, we can understand how much you want to get a haircut after a hair transplant. Our advice for you is to wait at least 5-6 weeks before your new hairstyle. In this way, you will have more dense, thick, and healthy hair to go with.
---
---