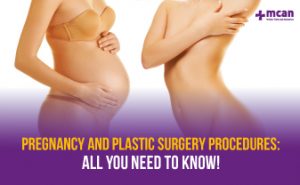 Women who are currently pregnant or planning a pregnancy or have been pregnant often have many questions about pregnancy and plastic surgery procedures; whether they can have surgery or how their pregnancy would affect their bodies, etc.
So, we have collected some of these questions. And hopefully, we will be able to answer some of your 'burning questions' too.
Let's get started!
Is Plastic Surgery Before Pregnancy a Good Idea?
The answer to this question depends on the type of plastic surgery you are considering and the timing of your pregnancy and surgery.
Generally speaking, plastic surgery procedures aiming to enhance body contours such as tummy tuck or liposuction are commonly advised to be postponed after having pregnancy. The reasoning behind this is the fact that pregnancy may 'risk' the outcome of your body contouring surgery. But this does not mean that let's say you cannot have liposuction before your pregnancy. You certainly can by bearing in mind that you may need a second round of liposuction after your pregnancy.
If you are planning to have any other plastic surgery such as a nose job or facelift, then you are good to go. But if you have plans to getting pregnant soon or trying to fall pregnant while planning your surgery, then it is best to communicate this with your doctor. As advised by the BAAPS (British Association of Aesthetic Surgeons), 'if you are planning to become pregnant, your surgeon may suggest delaying your operation'.
Is Plastic Surgery While Pregnant Safe?
There are many unplanned pregnancies. And many women book their plastic surgery treatments, then find out they are pregnant. They often ask if they can have their plastic surgery treatment. The answer is No! Having any type of surgery would put the unborn's and women's lives at risk. So, if you ever find yourself in this situation, it is best to communicate this with your doctor to postpone your surgery at a future date.
Can you get rhinoplasty while pregnant?
Even if it is not around your stomach area, the answer to this question is a NO as stated above. Any type of surgery poses risks to both the unborn and women during pregnancy. Surgeons do not perform any procedures on a pregnant woman unless the procedure is needed to save a life(lives).
How soon after birth you can have plastic surgery?
The answer to this question may vary depending on your circumstances, your desired plastic surgery treatment, and your doctor's decision. Generally, it is suggested to wait at least 6 months after your pregnancy to have any plastic surgery. But as mentioned, this may get longer depending on the type of plastic surgery you want to have. Shall we look into them separately?
How long after pregnancy can you get a tummy tuck or liposuction or BBL?
During pregnancy, women's bodies change. And the effects of pregnancy does not go away after delivery. Your body keeps dealing with the effects of pregnancy for a while after birth. And pregnancy mainly affects the abdomen area. Therefore, it is advised to wait at least a year to have any type of body contouring plastic surgery procedures.
How long after pregnancy can you get breast surgery including breast enlargement, breast lift, or breast reduction?
The answer to this question mainly depends on whether you breastfeed your child after birth or not. If you are breastfeeding your child, then you have to wait until at least 6 months of stopping breastfeeding. Let's say you breastfeed your child until they get 1 year old. Then, the earliest you can have your breast surgery would be when your child is 1,5 years old.
If you do not breastfeed your child, you still need to wait around 6 months after the delivery to have any type of breast surgery. This is because even after delivery your breasts will continue changing.
How long after pregnancy can you get a nose job or face surgery?
Your face and nose might be the least affected areas due to pregnancy but still, you may need to wait for a while to undergo such surgery. The answer to this question highly depends on your circumstances after delivery such as your hormonal levels and other medical conditions as well as your doctor's decision. While some doctors have a relaxed approach, some prefer to be on the safe side. Therefore, it is important to consult your doctor to see when you can have your nose job or face surgery after your pregnancy.
How pregnancy affects tummy tuck? / Can I have my second tummy tuck after pregnancy? / I gave birth two years ago and I'm planning to have another baby. Can I have a tummy tuck?
As these questions are similar. We will answer three of them together! To be perfectly honest, pregnancy is not so good for a tummy tuck. Although it is possible to have tummy tuck before pregnancy, it is advised to postpone your tummy tuck until you are done with pregnancy. This is because pregnancy may negatively affect the outcome of your tummy tuck. It may bring back saggy skin, stretch marks, and weak abdominal muscles. The research of ASPS (American Society of Plastic Surgeons) states that changes to abdominal muscles after pregnancy may affect tummy tuck results.
If you fell pregnant again after your tummy tuck, you can have a second tummy tuck. But still, it will be time and money consuming. Therefore, it is best to wait until you are done with pregnancy.
What are the most common/needed plastic surgeries after pregnancy?
The most common plastic surgeries after pregnancy are mainly breast and body contouring procedures. This is not surprising because pregnancy mostly affects a woman's abdomen area and breasts. Therefore, we have a specific plastic surgery for women who would like to reverse the effects of pregnancy. This specific plastic surgery is called a 'Mommy Makeover'. A mommy makeover is a surgery that aims to reshape and enhance a woman's body after pregnancy. Depending on the individual needs of a woman, it may consist of breast augmentation, breast lift, buttock augmentation, liposuction, tummy tuck, and vaginal rejuvenation.
I am still breastfeeding. Can I have plastic surgery?
Regardless of the type of plastic surgery you are after, it is best to wait until you are done with breastfeeding. It is not a good idea to breastfeed your baby after you have general anesthesia and while you are on medication. It is neither comfortable.
Can I still breastfeed after breast augmentation?
Most women with breast implants can breastfeed without any problems. And thanks to advanced technology, silicones do not pose risks to the breastfed baby. According to ISAPS (International Society of Aesthetic Plastic Surgery), 'neither silicone nor saline breast implants seem to cause any change to the composition of breastmilk, so it should be safe for babies to drink.' But is important to know that your ability to breastfeed comfortably with your implants highly dependent on the quality and the current state of your implants. It is best to talk to your doctor if you have any concerns.
Which treatment are you interested in?
You can have a free consultation whenever you want!
---
---