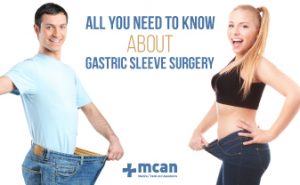 Obesity is a global health pandemic causing serious health conditions. And less than 5% of morbidly obese patients (anyone with BMI ≥ 35 or 40) succeed in losing a significant amount of weight with non-surgical weight loss methods.
Therefore, every year, an increasing number of women and men undergo gastric sleeve surgery globally. As MCAN Health, we also receive a growing number of inquiries on gastric sleeve surgery. This is the very reason why we write this blog piece. We aim to answer some of the most frequently asked questions by our patients. And hopefully, this blog piece will help you make an informed choice in case you need to make one.
Like we always do, let's first start with the basics. Are you ready? It will be a long one. But we promise it will be worth reading ☺
What is Gastric Sleeve Surgery?
Gastric Sleeve, also known as Sleeve Gastrectomy, is a type of weight-loss/bariatric surgery that aims to achieve drastic weight loss. Like other types of bariatric surgery, gastric sleeve surgery, too, is a medical surgery.
During the gastric sleeve surgery, some of the stomach is removed to make the stomach smaller. After gastric sleeve surgery, the stomach is expected to hold 20% of what it did before.
How is gastric sleeve surgery done?
Gastric sleeve surgery in Turkey with MCAN Health is performed under laparoscopic surgery which offers an easier and shorter healing period thanks to fewer and smaller incisions.
Gastric sleeve surgery is performed under general anesthesia and takes around 2 hours. A few small cuts are made, through a laparoscopic device, some of the stomach is removed. To finish the surgery, the rest of the stomach is reattached to form the new stomach, often referred to as the "sleeve".
Is gastric sleeve surgery dangerous?
No surgery is risk-free. However, thanks to the latest technology, gastric sleeve surgery is safer and convenient compared to many other surgeries. When performed by a qualified and experienced surgeon, the risk of complications is very low. This is the main reason why people with a BMI over 35, increasingly, choose to have gastric sleeve surgery.
How painful is gastric sleeve surgery?
Since the surgery is performed under general anesthesia, you will not feel any pain during the surgery. As for the post-op, you may have some minor pain due to the incisions that are tolerable with some pain medication.
What are the benefits of gastric sleeve surgery?
Gastric sleeve surgery is weight-loss surgery. Therefore, gastric sleeve surgery may prevent certain health conditions that might be caused by obesity including but not limited to: high blood pressure, heart problems, type 2 diabetes, joint pain. According to the research of JAMA (the Journal of the American Medical Association), bariatric surgery "saves lives". "Bariatric surgery significantly extends the lives of obese patients, even among older men with multiple comorbidities" the research suggests.
Since it encourages a healthy lifestyle, it also improves overall health and well-being in the long-term.
How much weight will I lose with gastric sleeve surgery?
Most of your stomach will be removed by the gastric sleeve surgery. So, you will feel full sooner and not be able to eat as much as you did before the surgery. However, in the long-term, the amount of weight you will lose also depends on how good you stick to your diet and exercise. If you follow the post-op care and guidelines, have a healthy lifestyle, then you can expect to lose 60% of your excess weight.
How do I know if I am eligible?
You need to be in good health generally to undergo gastric sleeve surgery. And if:
your body mass index (BMI) is equal or over 40
your body mass index (BMI) is equal or over 35 and you have health problems such as high blood pressure and type 2 diabetes due to your weight
you struggle losing weight no matter you go on a diet or exercise
you are keen to change your lifestyle for a healthier one
you are a good candidate for gastric sleeve surgery. If you do not know your BMI, you can use MCAN Health's simple calculator.
Do I have to wait to get pregnant after gastric sleeve surgery? Will the baby be healthy?
Pregnancy after a gastric sleeve surgery would be safe. The research says that having a gastric sleeve surgery before pregnancy might be good for the health of both the mother and baby. Because it removes the chance of obesity-related problems and risks during pregnancy.
Most bariatric surgeons advise their patients to wait at least 12 to 18 months for pregnancy. This is to make sure that your weight is stabilised.
Now let's answer some commonly asked questions about post-operation…
How long will I stay in the hospital after gastric sleeve surgery?
After your surgery, you will be closely monitored by your surgeon. If all goes well, you will be discharged from the hospital on the 4th day after your gastric sleeve surgery.
How long does it take to recover from gastric sleeve surgery?
This depends on the technique of gastric sleeve surgery. Thanks to laparoscopic gastric sleeve surgery, recovery times are shorter and smoother compared to the gastric sleeve surgery with the open technique. Although the recovery time may vary from one patient to another, generally, it takes around 4 weeks.
When can I go back to work after a gastric sleeve surgery?
If you had a gastric sleeve surgery, then you can expect to go back to work 4 weeks after your surgery.
When can I start exercising again after a gastric sleeve surgery?
It is mostly advised to do some gentle exercising such as walking after the surgery. But you should avoid heavy exercising until you fully recover. You will be given an exercise plan as a part of your post-op care.
Will gastric sleeve surgery last?
Yes, the result of a gastric sleeve surgery is permanent as long as you are loyal to your post-op care and follow a healthy lifestyle.
Do most patients need to have plastic surgery after gastric sleeve surgery?
This depends on the patient's circumstances,  to be more specific: the extent of your weight-loss and your skin's ability to recoil. While some patients do not need any plastic surgery, some may need to have tummy tuck due to excess skin caused by drastic weight-loss. It is best to wait until you reach your ideal weight to see the final result and the effects of weight-loss on your body/skin to make any decision about any plastic surgery.
Will I lose hair after gastric sleeve surgery?
For some patients, hair loss might be a side effect of any weight-loss surgery including the gastric sleeve. It is important to know that it is a temporary condition. Even if you experience hair loss after your gastric sleeve, it will stop within 6 months and your hair will grow back. You will not go bald.
Do I need to take vitamins and minerals after gastric sleeve surgery?
Yes, you need to. It is to support your overall immune system and to prevent any vitamin and mineral deficiencies. Your bariatric surgeon will prescribe you with the required medication.
We hope we could answer some of your questions with this blog piece. If you have any further questions or would like to find out more about Gastric Sleeve Turkey and the costs, please contact us now.
---