The Rock With Hair: Will Dwayne Johnson Ever Get His Hair Back?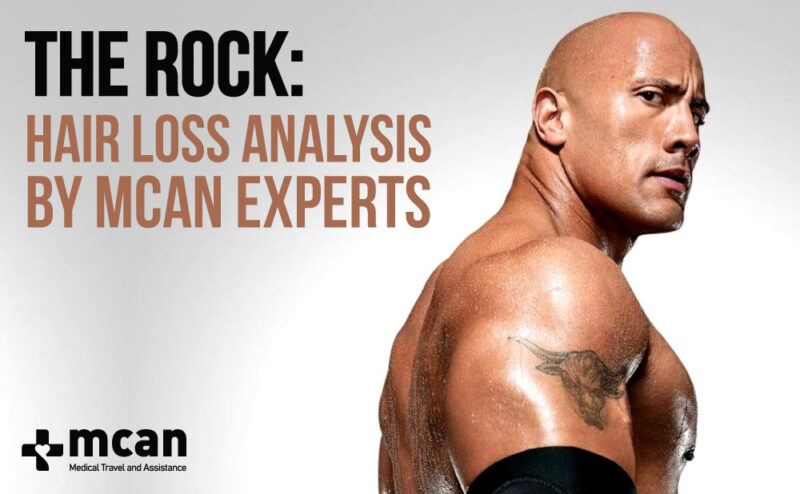 Everybody knows that Dwayne Johnson got his superpowers when he entered the particle accelerator in Switzerland. Unfortunately, hair loss was the negative side to it. But that didn't keep him from being named the Sexiest Man Alive in People Magazine's 2016 issue. Rocked it!
Despite this coveted title, many of us sorely miss legendary photos of The Rock with hair. And yes, we are talking about that infamous one of Johnson grabbing his fanny pack with a cheeky smile and a turtleneck (scroll down for a lol).
Fans all over the world have been asking if Johnson will ever get his hair back. The actor's contradictory claims about his lack of hair have gotten MCAN Health's trichologists to analyze the former WWE wrestler's pictures. Follow their expert opinion to establish whether Johnson is bald by choice or genetics, and whether he can actually get his hair back!
The Rock with Hair Meme
Towering at 6'5 and weighing over 110KG, there is no wonder why Dwayne Johnson is called 'The Rock'. Formerly known for his signature eyebrow lift, Johnson is now the most famous and sexiest bald man alive. Speculation over The Rock's baldness started when Johnson answered a tweet in 2017, self-deprecatingly explaining he was actually bald by choice:
'Why I luv GIFs. I'm not bald because I went bald. I'm bald because my hair is a cross between an afro and hair from a Lama's ball sac.'
We don't want to know how Johnson became familiar with the physiology of a Lama's ball sac. Let's focus on the implicit message instead: he claims to have shaved his head because he didn't like the way he looked.
Now, how does the above comment not contradict this other January 2021 Instagram post?
At the end of his post, we see the following words:
'I may be bald but I know a thing or two about hair. Mainly because I wish I had it.'
In the link we see Dwayne adorably untangling his daughter's hair. Funnily enough, the little one looks absolutely terrified at the prospect of it. But hey! Not only is he an actor, a hairdresser, a wrestler and a businessman, he is also the father of three little princesses!
What a man.
But back to our matter. If Johnson truly went bald by choice, why would he ever wish to have hair? Is it even conceivable for a man like The Rock to lie about his baldness?
The Rock Young
We have to go back a couple of decades to untangle this mystery a little further. Let's take a look at The Rock's earlier pictures, when the actor had just begun his career as a college football player for the Miami Hurricanes.
Back in the early 90's, we can already notice a slight recession in The Rock's hair, even though his density is in complete accordance with his age. What came next? By 1995 The Rock gave up on football and famously went on to pursue a career as a professional wrestler, like his grandfather and father before him. How did his hair look like then?
The Rock WWE Era
He can clearly notice that The Rock was never very well endowed. He was barely 25 and already showing signs of alopecia. But how does that compare with his latter years as a WWE wrestler? Things do not get any better when you are going bald…
The above picture does not only show signs of an advanced recession, but even thinning on the frontal area. At this point, The Rock was clearly losing his hair, and losing it fast at 30 years old!
Why didn't The Rock Save his Hair?
But then, if The Rock was losing his hair, why didn't he put a remedy to it? Elon Musk's Hair Transplant worked pretty well on him! and Lewis Hamilton restored his hair with a hair transplantation procedure too!
So then why, Rock, why!?
Can you even remember what The Rock with hair looked like? Johnson had afro, curly hair, which is difficult to transplant. But he could have afforded the best surgeons in the world. Did he not have enough hair density for a FUE Hair Transplant?
The only conclusion is that Johnson was honest in his claim: he went bald by choice. That can be pretty reasonable, when you are as tall as him and have muscles like three men put together. Most of us are not so fortunate, however.
If you are balding and don't like the prospect of it. The only thing you have to do is get in contact with us. We will send you a whole medical travel plan and budget for free.  At MCAN Health, our motto is: beauty is for everyone!
---
---