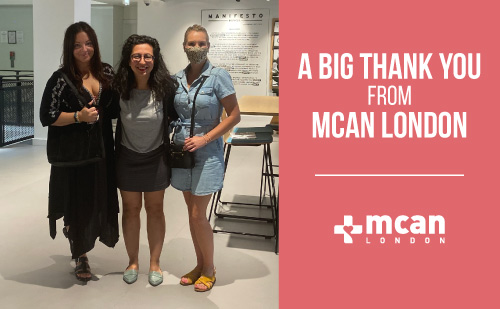 We cannot believe it has been three months since the opening of MCAN Health London office. And we are still as excited as we were in the early days of our presence in London. During the last three months, we had the pleasure of meeting up with our MCAN family in London. We got together with previous and future patients over a cup of coffee, celebrated the sky-high confidence and shared excitement and happiness.
We are amazed by the high number of patients who visited us in London in the last three months. We appreciate all our previous patients who referred their loved ones to MCAN Health and who even came along to encourage them to take their first steps in their transformation journeys. As a medical travel company providing the highest-quality treatments at affordable costs since 2015, we knew that our family in London would be warmly welcoming us but, to be honest, we were not expecting that amount of interest. We are humbled by the interest of both MCAN Babes and Lads and want to thank each and every one of you!
Some of our patients got very excited that we opened a clinic in London. But nope, we have not, at least not for now ☺ Our London office is for communication and consultation purposes. To be able to offer the highest-quality hair transplant, plastic surgery, dental, and bariatric surgery treatments, we offer all our treatments in Turkey. You can imagine how expensive it would be in London, yes London is super expensive! Why would you pay a fortune for the same service?
So, what does MCAN Health London do exactly?
We have been supporting patients from different parts of the world since 2015. And most of our patients have been travelling from the UK. This is the main reason why we decided to open MCAN Health London, to be closer to our patients and to better facilitate their medical travel journeys.
By visiting us at our office, you can:
have your hair transplant, plastic surgery, dental and bariatric surgery treatment plans face-to-face,
ask your questions about your medical travel journey and get answers in minutes,
place your deposit and book your desired treatment.
As a response to one of the most frequent questions we get, having an appointment at MCAN Health London is 100% free!
And our office is just one minute walk from the very well-connected Liverpool Street Station! The head of MCAN Health London, Ozlem, will be happy to welcome you always! In short, if you have not visited MCAN Health London yet, you should soon; coffee and tea is on us ☺
Are you after a hair transplant, plastic surgery, dental treatment, bariatric surgery or IVF?
---
---