Bariatric Diet After Gastric Sleeves – What to Eat After Sleeve Surgery
Gastric sleeve surgery is the most effective operation for a fast and consistent weight loss, ridding patients of 40-50kg in just a year. It is also safer than a Gastric Bypass, which involves more drastic engineering. However, after removing 75-80% of their stomach, surgeons understandably ask patients to change their eating habits, adopting what is known as a bariatric diet or gastric sleeve diet. This might come across as a little upsetting for people who have been told to diet for years without end, but it will be necessary for recovery purposes. 
Gastric Sleeve Diet Before the Operation 
So yes, patients must diet after gastric sleeves, but also before! As in any other operation, patients must go into the surgery room with an empty stomach. Do not worry, you do not have to go through monastic abstinence! a few foodless hours will suffice. 
How Long Do You Have to Be on a Liquid Diet Before Gastric Sleeve?
No food or liquids can be consumed in the last 12 hours prior to any medical intervention. If you have already had a surgical experience in the past, you know that this is no different from any other general anesthesia operation. In the weeks before the surgery, you should also avoid cigarettes, alcohol, fat-rich foods and, if possible, diet! This will greatly facilitate surgery and allow for better results!
What is the Proper Portion Size After Gastric Sleeve?
As you might imagine, the bariatric diet taking place right after the operation will be based on smashed food and liquids. As plain as it may sound, it is the best way to minimize digestive efforts and recover. 
Best Diet after Gastric Sleeves?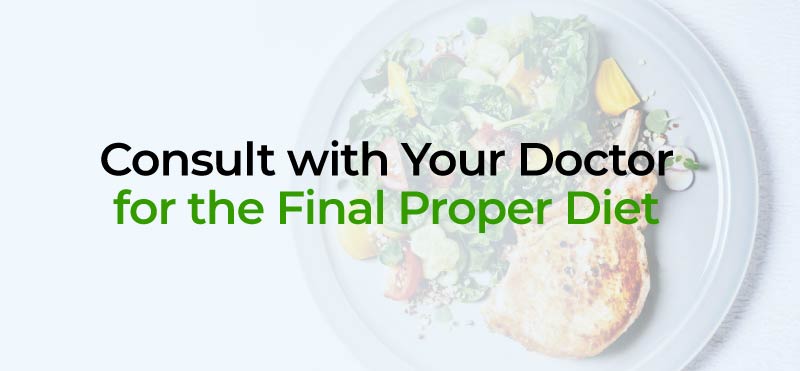 The best gastric sleeve diet is the one your surgeon will recommend you. The most important thing is to find a competent, responsible surgeon who will review your situation and establish a personalized diet plan for you. But in the following you can find some tips: 
Clear Liquid Diet in the First Week 
The first week after the operation is the most crucial. Your abdomen has been opened, surgical utensils have been introduced inside your body, and a large part of a vital organ has been removed. This means that patients must do all they can to help the healing process. Self-caring is translated into: liquid, smashed food, and more liquid!
What Does a Day on the Clear Liquid Diet Look Like?
Here is what a recovery bariatric diet looks like:
Breakfast
A bowl of soup, either vegetable, chicken or tomato-based, with little food chunks. 

3-4 tablespoons of sugar-free, lactose-free, skimmed yogurt. 
Snack
A glass of sugar-free, skimmed lactose-free milk with light cereal (wheat).
Lunch
A bowl of soup similar to the breakfast one; light fresh cheese can be added. 

3-4 tablespoons of kefir or light milk.
Snack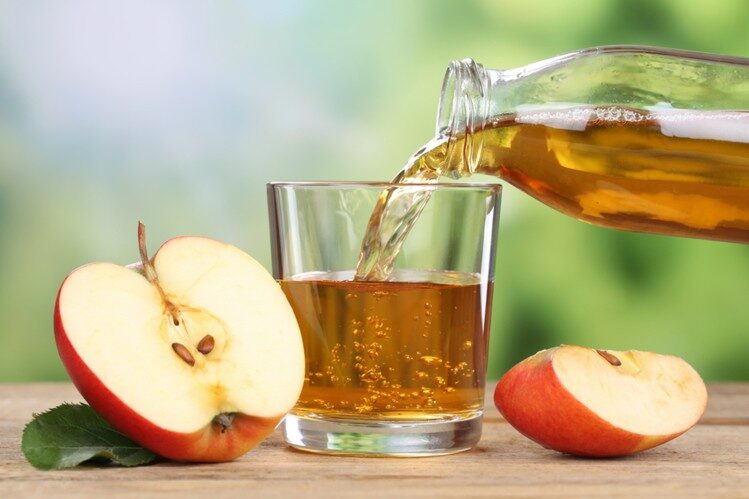 A glass of sugar-free fruit juice, or squeezed compost (orange, mandarin and grapefruit are not allowed in the first two months). A cup of herbal tea is also an option (sage tea not allowed).
Dinner
Light soup in a teacup (not thickened with bread, paste or flour), similar to the breakfast and lunch soup.

3-4 tablespoons of kefir or skimmed, lactose-free yogurt.  
Full Liquid Diet for the Second Week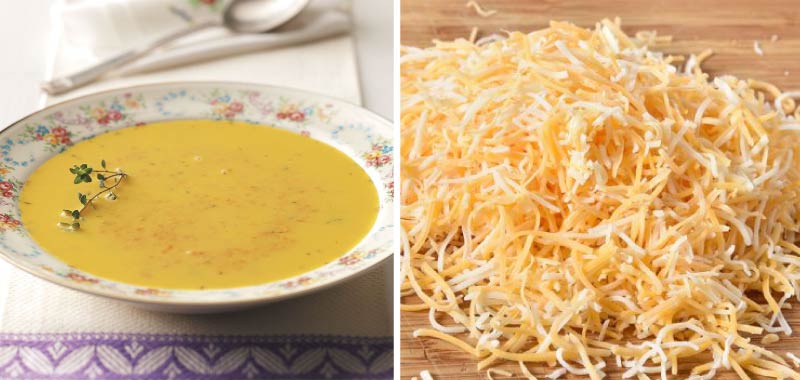 The gastric sleeve diet remains pretty invariable during the whole first week, but don't worry, things get better and continue improving week by week: the breakfast, lunch and dinner soups can have lentils during the second week, and you can add a bit of cheese to your meals (if fresh and light), as well as a boiled egg in the morning. At lunch, your soup can be beef-based, and have spinach, zucchini, beans, celery and/or artichoke, like your beloved ramen. You can even start eating meatballs and tuna! 
Things to Know Before Starting a Clear Liquid Diet
The most important thing to know is: portion size after gastric sleeve surgery must be, you guessed it, small! That being said, not all liquid is allowed. Forget about soft drinks, artificially sweetened juices, and, of course, alcohol. The first weeks are the toughest, but great things wait ahead.
Puree Diet After Gastric Sleeve on the Third Week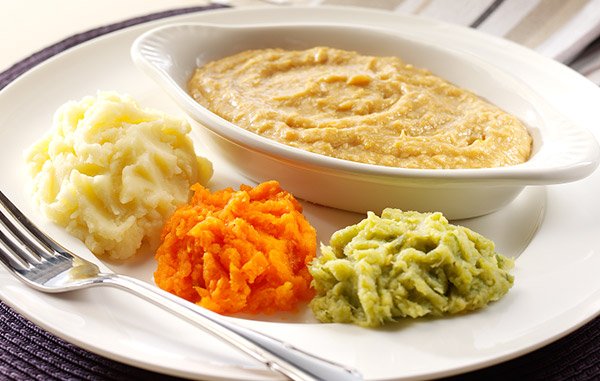 From the liquid diet we go to the semi-solid diet with puree, compotes and mashed food recipes. They can be meat or vegetable-based, and you can start adding fat-rich foods, such as salmon, to your nutrition habits. Quantities must remain small, as all digestive efforts must be kept under strict minimums.  
Start the Soft Food Diet in the Fourth Week

From the puree diet, we go to the soft food diet post gastric sleeve surgery. Patients can now start adding other foods to their diets, including pies, omelettes, fruits and other kinds of soft cheese, not necessarily fresh. The diet after gastric sleeves must still consist of small quantities. 
Healthy Diet on the Fifth Week (Stabilization)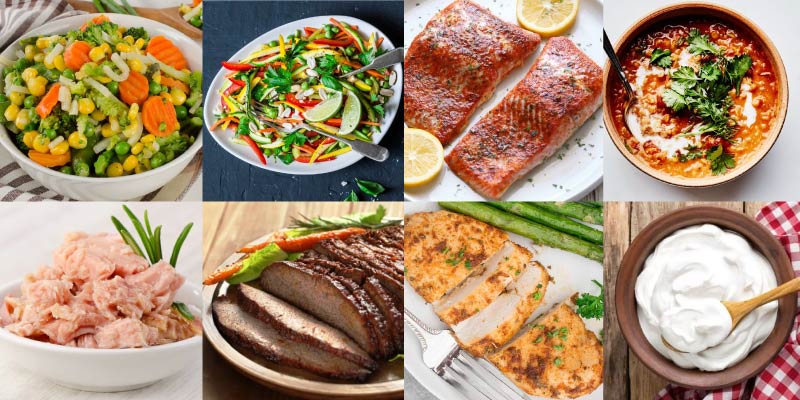 If the recovery progress has been consistent (no vomiting, nausea or pain should take place at this stage), patients go on to the 'healthy diet stage' in the fifth week. This is a diet based on vegetables, yogurt, soups, lentils, chicken, beef, tuna, salmon, and can include almonds and nuts.
Long-term Diet After Gastric Sleeve Surgery 
Your recovery will be fully over after a year. You must have lost 20-30kg, and possibly even more. You have become a new person with a brand new body! In order to keep yourself good and healthy, you must maintain good life habits and follow a diet that will not harm your new digestive system.
Gastric Sleeve Diet After One Year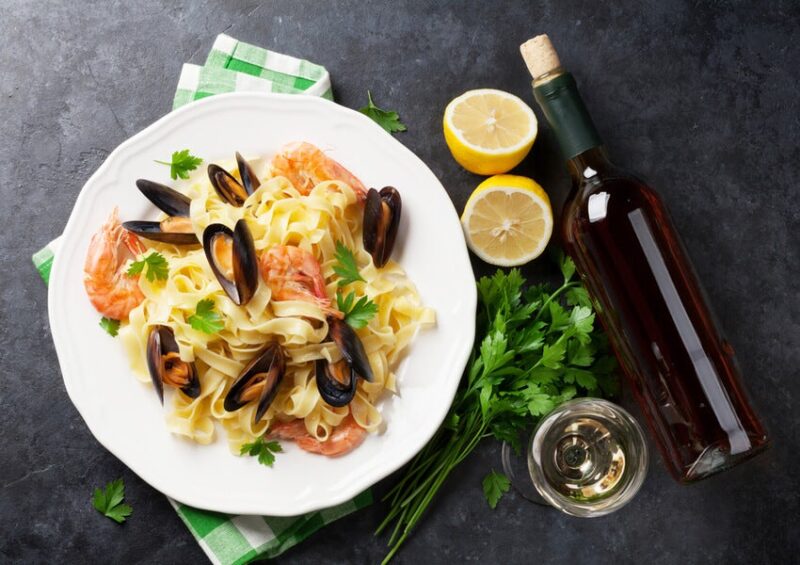 The one year diet after gastric sleeves is a return to normality, where oven or grilled food can be eaten, as well as all kinds of fruits, drinks (including alcohol, coffee and carbonated beverages) and all meats. Certain foods, however, should be thoroughly avoided (see list below). The main thing to remember about your gastric sleeve diet after one year is that your stomach has been reduced, and you should not force or try to eat more than your body is naturally asking you to. At this point, this will be easy. We recommend you to eat a plant-based and low fat diet, and to exercise regularly!  
Gastric Bypass Diet 10 years later 
Gastric Bypass diet 10 years later is whatever feels good to you, as long as you avoid the food list below!
What Can You Not Eat After Gastric Sleeve Surgery

One year after your bariatric surgery, there is no food that is strictly forbidden, and you should be able to go back to a normal eating routine, without any restrictions. In the process, however, you might have developed a distaste for the following foods:
Greasy, fat-rich foods

Spicy food, heavily seasoned

Sugar-rich food

Tough or dry meat (especially red)

Microwave food
This might have been terrible before, but at this point, you will feel happy not to want to eat any of these foods!
Recipes for Bariatric Diet 
Want some inspiration about recipes for gastric sleeve diets? Take a look at our best suggestions via this link!
Do not forget that our MCAN surgeons and medical team are here to help at any stage of your bariatric surgery journey, from the consultation to the post-operative stage. We will give you the best recommendations, so do not hesitate to contact us!
Mehmetcan Kotil Medical Content Expert
Mehmetcan is MCANs Digital Marketing Manager and Content writer who has taken roles in medical tourism for years and created written materials for healthcare provider's websites.
Updated Date: Saturday, January 22 2022
Published Date: Monday, July 31 2023