What is Hair Loss?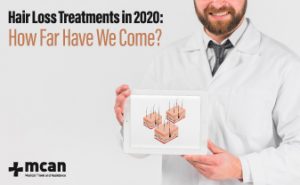 Hair loss is the thinning of hair or balding on the scalp. Hair loss affects both men and women. But it would not be wrong to say that men are disproportionately affected globally. The reason behind hair loss may be related to genetics, medical conditions, medications or hormonal changes.
Whatever the reason is, one of the main consequences of hair loss is stress and anxiety for most people. Andre Agassi, an American tennis player, described his hair loss experience as like losing 'little pieces of my identity'. And the research around hair loss does support his statement for many more people; there is a close link between hair loss and various mental health conditions.
Hair loss has long been an 'issue' for human beings. The research shows that ancient Egyptians were trying on some remedies to treat their baldness. So, as humans, we have been trying to find a 'cure' for hair loss since ancient times. And as of today, despite technological advancements in the medical field, we are yet to be successful.
But it does not mean that we are losing the fight against hair loss. On the contrary, there are promising hair loss treatments that are currently under development. Yes, there is a light at the end of the tunnel. Let's look into two of these promising developments.
Hair Loss Cure 2020 – Developments from the Field
1. Hair Cloning
Do you remember Dolly, the sheep? In 1996, we met her, the first mammal cloned from an adult somatic cell. She was created 'from scratch'.
14 years later, similar developments are under way to clone hair follicles. This development will be 'breakthrough' once it is materialised. There will be no such issue as hair thinning or balding anymore. Once you lose your hair, you will have many more replacement thanks to cloning. And it is going to be permanent!
In hair cloning, hair follicles extracted from your scalp are multiplied (cloned) in a laboratory environment by using different methods. And the very good news is the fact that you still have necessary stem cells on your scalp even if you are completely bald.
Hair cloning was believed to be available by 2020. However, we yet to hear the 'good news'. Even when it becomes available, it would certainly take some more years for hair transplantation with stem cells to be widely accessible.
2. Biotechnology and Drugs to Cure Hair Loss
There are many biotechnology companies that have been working on medication that could cure and end hair loss. Some of these biotech companies have their products in late-stage clinical trials, meaning that the 'good news' might be just around the corner.
Most of these developments in biotechnology focus on stopping hair loss and regrowing hair rather than creating it from scratch. Most of these companies are based in Europe, Japan or the USA. And we are especially pleased to mention one of them: Samumed, a biopharmaceutical company based in the USA and run by three incredible Turkish scientists who have been working very hard to cure hair loss.
SM04554 is their experimental drug and it is in phase 3 already. They started evaluating the efficacy and safety of SM04554 Topical Solution in men with androgenetic alopecia (men with the male pattern of baldness) in 2018. The clinical trial with 625 participants is estimated to be finalised in January 2021. If approved, the prescription treatment will be available for men patients. This is great news!
But still, even after approval of a medicine, it takes quite some years  for it to become available to the public. We may need to wait around 5 to 10 years for these developments to be available to public.
So, where do all of these take us?
Hair Transplantation as Hair Loss Treatment!
Gladly, even if it is not for all people who experience hair loss, for most of them, we currently have an amazing solution: Hair Transplantation. Thanks to advanced technology in the field, hair transplantation is now minimally-invasive, pain and scar-free. FUE Hair Transplant, DHI, and Sapphire are among the latest technology hair transplant methods that offer promising results to many men and women.
Additionally, thanks to booming medical tourism in countries like Turkey, hair transplantation is not exclusive to the rich anymore. Thanks to affordable prices, you do not need to pay a fortune for your hair transplant. So, it is more accessible than ever. That is why an increasing number of men, as well as women, have a hair transplant every year.
Would you like to find out whether you are a suitable candidate for a hair transplant? Then, feel free to have your free consultation now!
Are you interested in a hair transplant for yourself?
You can get more information and have a free online consultation whenever you want!
---