What Is the Ideal Breast Size? The Dream Boobs Can Be Your Real Boobs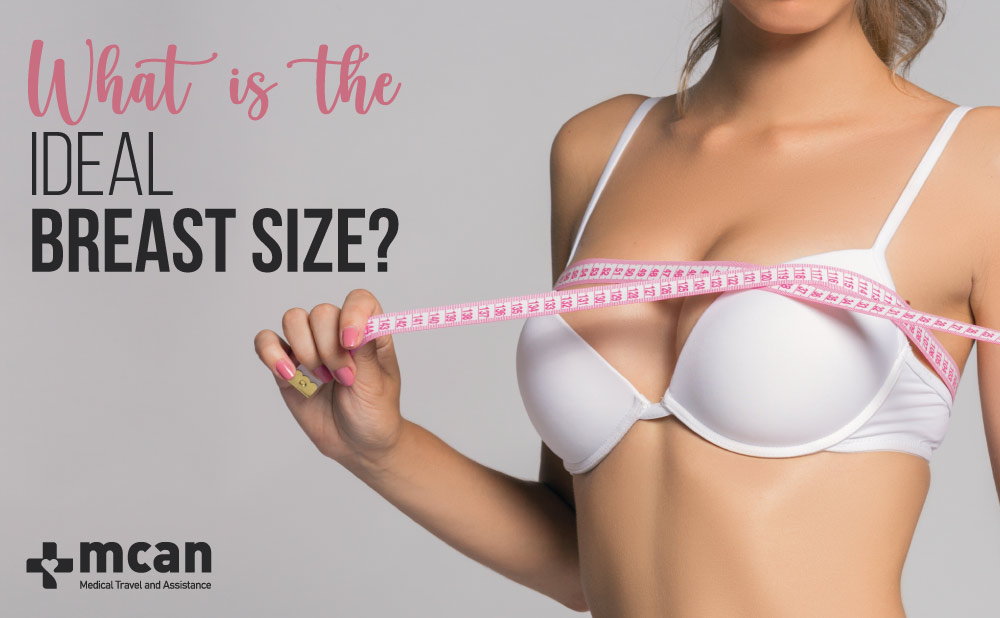 Breasts… one of the most important features of women that are mostly linked with femininity and attractiveness. Therefore, it is no surprise that breast enlargement surgery, also known as breast augmentation or breast implants, is the most popular plastic surgery treatment. More than 1.5 million women have breast implants every year globally.
As women, we are all different so are our breasts. But in general, we can put the types of breasts into 9 categories
Are you happy about the size and shape of your breasts or not really. Well, the research suggests that around 44% of women are not happy with their breast size and shape. So, if you are unhappy about your breasts, you are not alone!
Ideal Breast Size and Shape Is Changing According to the Trended Celebrities in Media! 
We can hear you saying "hang on, has there been an ideal breast size for each decade?" It may be surprising for some but yes. Like fashion, hairstyles, or other beauty trends, the ideal size of the breasts has changed through time.
While curvier women's bodies were considered ideal body shapes in the '50s, as we reached the 2000s, models with skinnier and slimmer bodies have been more popular. But it has changed again in the 2010s and 2020s with more curvy and hour-glass shapes on the rise.
Similar to "ideal body shapes", specific sizes and shapes of breasts have been considered ideal in each decade. And women have been trying different things to keep up with the trends.
Let's look at the breast size trends starting from the 1950s up until today!
Marilyn Monroe's Bra Size Was Every Fashion Lover's Dream in the 1950s
When somebody is talking about the 1950s, among the first things coming to our minds, there is certainly Marilyn Monroe. American superstar was the most influential trendsetter in the 1950s. She has set the trends not only with her hairstyle, clothes, and accessories she was wearing but also with her curvy body with fuller breasts. 
So, women in the 1950s wanted to have Marilyn Monroe size, measurements, height and weight and especially boob size!  And that's why they were mostly using bullet-shaped bras!
Perfect Breast Size in
the 1960s and 1970s Were Small Ones on Slim and Petite Bodies!
Along with being characterised as the times of liberation and freedom, the 1960s had witnessed some very important developments in breast implant surgery. Actually, the 1960s were the times when modern breast implant surgery was born. In 1962, the first silicon implants to increase breast size from a B to C cup were used on a female patient in the US.
Although there were developments in breast implant surgery, in the 1960s, petite and slim models like Twiggy and Jean Shrimpton with smaller breasts were popular.
Similar to the 1960s, smaller breast sizes and slimmer bodies were ideal also in the 1970s when Cher, Beverly Johnson, Olivia Newton-John, and Barbara Streisand were among the trendsetters.
Best Breast Size in t
he 1980s: The Bigger, the Better!
The 1980s were the times when we started hearing more about plastic surgery treatments including boob jobs. And the bigger breasts, the breast sizes improved by using implants were in our lives thanks to the celebrities like Pamela Anderson. Who would not remember the famous picture of Pamela Anderson in her red swimsuit showing off her big breasts?
Together with Pamela Anderson, another American celebrity, Carmen Electra and British singer and model Sam Fox were among the ones who increased the popularity of enhanced breast sizes and the usage of breast implants in the 1980s. But still, breast implants in those times were exclusive to celebrities or the rich and not accessible to most women.
In the 1990s: WonderBras Made the Ideal Breast Size Available for Everyone!
WonderBras have been very popular in the 1990s, especially for women who would like to have bigger, fuller-looking, and perky breasts but who could not afford to have breast enlargement surgery. Following the 1980s, bigger and fuller breasts were still popular in the 1990s. 
Rumours about Elizabeth Hurley boob job or Mariah Carey bra size were also some of the first spreading news about celebrities' plastic surgeries.
The 2000s – Perfect Breast Size Was Available for Everyone Thanks to Breast Enlargement Surgeries
Spice Girls Victoria Beckham and celebrity model Katie Price were among the celebrities with breast implants. And following the 1980s and 1990s, bigger and fuller breasts were considered as ideal breast size and shape in the 2000s too. But the 2000s have arrived with a big difference.
The breast implant surgery was becoming more and more accessible. And having implants was not exclusive to celebrities anymore. Globally, the number of women undergoing breast enlargement surgery was increasing drastically.
 The Best Breast Size in the 2010s is the Average Boob Size of Kardashians!
Beyonce, J-Lo, and the Kardashians made curvier and hourglass body shapes popular again. While there were women who gave up on implants and wanted to go for smaller breasts, bigger breasts were still on a roll after three decades. In the 2010s too, rounder, firmer and bigger breasts continued to represent confidence for women.
Best Breast Size According to Men and Women
We are living in a decade when body positivity is considered to be very important. Of course, there are still many beauty ideals and trends influencing all of us. But at the same time, we are more aware of the fact that being in a body that makes us, not others, happy and content is the most important thing.
As well as women who would like to go for bigger breasts, there are many women who would like to have smaller breasts. According to a study, almost 60% of women and 55% of men just prefer an average breast size, 9% of women and 11% of men prefer a small one and finally, 31% of women and 35% of men consider large breasts as the ideal breast!
The Dream Boobs Can Be Your Real Boobs 
When seeing celebrity breasts, one cannot help but think "yeap these are my dream breasts".  But this does not need to be a dream, anyone can and should have their desired breasts. And breast implants are no longer for celebrities thanks to medical tourism. If you have any questions about how to change your dream boobs to the real boobs you can contact us! 
---
---