MCAN Health's High-quality Standards Are Now Accredited by TEMOS
We have some exciting news to share. But before doing that, we would like to thank each one of you for all your support in our journey. Without you being there, we would not be able to become "the MCAN Health" we have become today!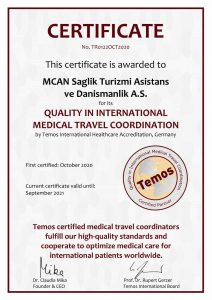 We are proud to announce that MCAN Health is now an accredited partner of TEMOS that targets excellent quality of service in medical travel coordination.
Temos International Healthcare Accreditation is a global quality program helping "hospitals, clinics, and medical travel coordinators to find their highest levels of performance to deliver top quality to domestic patients, patients with different cultural backgrounds, international patients as well as medical travelers they serve and to continuously take care of their quality".
Temos Certification is only given to organisations that have an established track record in providing excellent patient care.
Temos Certification acknowledges that MCAN Health:
offers the highest quality of care
works for the maximisation of patient's satisfaction
prioritises patient's safety and well-being
adheres to ethical standards
puts the patients in the centre of its work
We are very happy that Temos accreditation has acknowledged and certified our high-quality standards in international medical travel coordination.
Since its foundation in 2015, MCAN Health has put its patients at the core of its work. We have always listened to you; your advice and reviews with the aim to go that extra mile for you. We have always put ourselves into your shoes to be able to truly understand how you feel when you trust us with your health; when you are starting your "dream journey" in a foreign land. We know that you may have been waiting or saving for so long for that treatment. We understand that you may actually be making one of the big decisions of your life for yourself.
With all of these in mind, we always aim to provide you with the services we would like to get if we were in your position. We see each and every patient as a member of our family. What would you want for your family? This is exactly what we want for you. We aim to give you the highest quality service with the utmost care.
Thank you ever so much for being with us on that journey!
Mehmetcan Kotil Medical Content Expert
Mehmetcan is MCANs Digital Marketing Manager and Content writer who has taken roles in medical tourism for years and created written materials for healthcare provider's websites.
Updated Date: Tuesday, November 24 2020
Published Date: Wednesday, July 26 2023