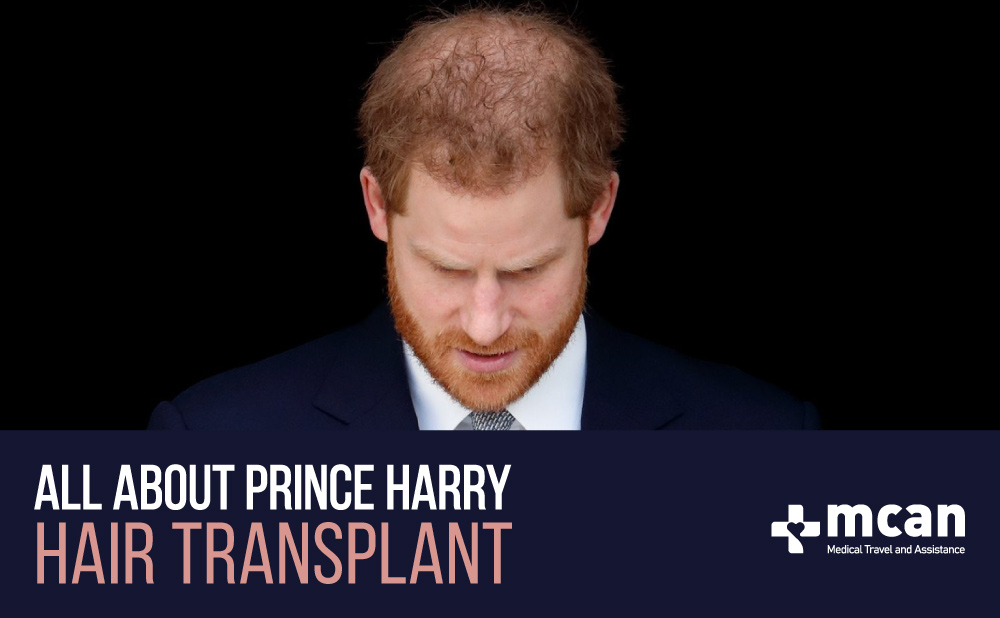 As an expert team, in this article, we want to talk about Prince Harry Hair Transplant possibilities! But before we start we want to mention the surprising news that we heard last year!
One of the biggest news of 2021 about the royal family has certainly been the interview of Harry and Meghan with Oprah Winfrey. This was the first interview of the couple after they gave up their loyal titles, or as some call it, "Megxit".
Harry and Meghan in Oprah Interview
Since the interview was aired in the US on the 7th of March, 2021, the whole world has been talking about the highlights of the interview and the problems that led to the couple's decision of leaving the Royal Family. 
In a deeply personal TV interview, lots of important and even shocking details were shared by the couple such as the suicidal thoughts of Meghan, the discussions in the family about Meghan's skin colour and Harry's son Archie, or the problems between Kate and Meghan. 
The whole interview was really jaw-dropping. The couple seemed to be upset with all of the problems within the family but they were also strong and happy together, preparing to welcome their second child.
Prince Harry Hair
We can go on about the Oprah interview for days, but we are not experts on royal gossip! That's why we would like to focus on Prince Harry hair loss and the way he looks. As most of you may have noticed, Harry looked very tired, certainly tired of his family problems and the feeling of being let down. We also noticed that Prince Harry got bald more than before. He has had a hair loss problem for quite some time. And all the stress and emotional struggles have certainly not been of any help for his hair loss problem.
Royal Family Hair Loss
It seems like male pattern baldness has been part of the royal family's heritage. Prince Charles and his sons have all lost hair after a certain age. Even though Prince Harry hair loss is very visible at the moment, in the Royal family, William's hair loss has always been the most visible one. Harry has even teased his brother Prince William about it: "I think he definitely is brainier than I am, but we established that at school, along with his baldness", he said.
Prince Harry Hair Loss Issues: Is He Going Bald?
During the last couple of years, Harry's hair loss has started becoming the focus of the media and hair transplant experts alike. Some say Harry is losing his hair more after getting married and becoming a father, probably due to the problems they experienced within the Royal Family.
Almost all hair transplant experts, including us, have been constantly advising Harry to do something about his hair loss problem as early as he could! otherwise, his hair loss would worsen like William's.
Then, just before the wedding of Harry and Meghan in 2018, the rumours came out that Harry had been in touch with a celebrity clinic and would have a hair transplant after the wedding, the budget of which was £50K!
Prince Harry Hair Transplant? Did It Happen or Not?
Although there are other rumours saying that Prince Harry had some kind of hair treatment to thicken his hair, he has yet to have a hair transplant. And as clearly visible in the interview with Oprah Winfrey, Prince Harry balding is still a problem that needs to be dealt with.
Hair transplant offers a permanent solution to hair loss caused by androgenic alopecia (male or female pattern hair loss). Both men and women can benefit from a hair transplant to reverse the effects of hair loss. 
And we believe that Harry should deal with his hair loss problem as early as possible so as not to lose his eligibility for a hair transplant. If Prince Harry keeps postponing his hair transplant as his brother did, it may be too late for him. We would not want Harry to miss his chance for permanent treatment for his hair loss.
Prince Harry may finally decide to undergo a hair transplant or not! The main point is to be peaceful with your body and appearance. Every year, hundreds of thousands of patients undergo hair transplant treatments. And most of these patients travel to Turkey as Hair Transplant Turkey offers high-quality hair transplant procedures at affordable costs. 
---
---