MCAN Medical Aesthetic Clinic is Awarded as The Best Aesthetic Clinic of Turkey!
Medical travel and medical tourism have become an unstoppable trend all over the world. Each year the number of patients travelling to another company for medical needs are increasing with annually multiplying numbers.
With its talented and experienced surgeons, Turkey has already become a major player in this industry. There are a huge number of medical travel companies and clinics all over the country in different qualities and concepts of service. As an experienced medical travel company, it is no surprise for us to see patients coming all over the world. As a result, there are a huge number of medical travel companies and clinics all over the country.
MCAN Health's aim is to provide the best hair transplant and plastic surgery service for international patients, so that it has an agreement with MCAN Medical Aesthetic Clinic where the hair transplant procedures and plastic surgery consultations are performed.
We are proud to announce that we had a very good choice because MCAN Medical Aesthetic Clinic has been awarded as The Best Medical Aesthetic Clinic in 2019 by the Stars of Turkey 2019 Awards. MCAN Clinic is located at the heart of Istanbul, Levent. It is a luxurious place in a peaceful spot isolated from the loudness yet very central as well.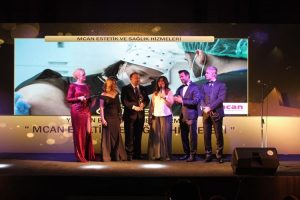 MCAN Clinic's interior looks as beautiful as the exterior. The previous design of the villa is removed and a new one is designed and built from scratch. With the bright colours used everywhere, you will feel the freshness of beauty and health in every step. The garden is designed to reflect the beauty of nature in every season. The consultation and operation rooms are consciously built as big as possible to help you relax and enjoy the environment. The restrooms are designed for the disabled and they are ready to fulfil any need of a patient.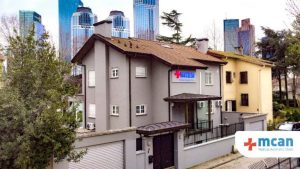 The walls are adorned with fine arts. One of the most influential photographers in Turkey, Mehmet Tutun's photo-series are waiting to be seen to uplift your soul via art. The original statue representing the beauty of the human body is also a nice touch to stop and contemplate for a while. After extensive planning to be able to satisfy every need, MCAN Medical Aesthetic Clinic has become a place for the patients to experience comfort through luxury, beauty through art and transformation through healing.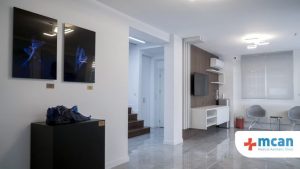 MCAN Medical Aesthetic Clinic is providing hair transplant, minor plastic surgery and medical aesthetic treatments with the highest quality. The hair transplant operations are performed by Trichologist Sedef, with an experienced and talented medical team to achieve very satisfying results. For a successful hair transplant, it is always recommended to get your treatment by a doctor with an MD degree to ensure the safety and quality of hair transplant.
The plastic surgery consultations and check-up process are made by MCAN Clinic's contracted plastic surgeon Dr Gurel along with the medical aesthetic operations, such as facial injections procedures and fillers. The operations are done in a contracted hospital with JCI accreditation while the others take place in the clinic. Experienced with a lot of patients from all over the world, MCAN Clinic's plastic surgery team is capable to give the patients' the best possible result.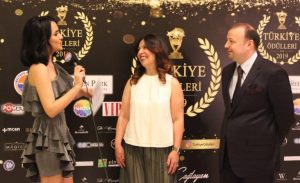 We congratulate MCAN Medical Aesthetic Clinic for their success and feel very proud of the clinic to be appraised with its excellent service.
Mehmetcan Kotil Medical Content Expert
Mehmetcan is MCANs Digital Marketing Manager and Content writer who has taken roles in medical tourism for years and created written materials for healthcare provider's websites.
Updated Date: Wednesday, March 6 2019
Published Date: Thursday, August 3 2023