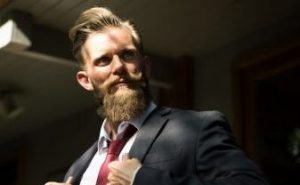 There are few things we find so frustrating as losing our hair. But alas, statistics confront us with a cruel reality: by their mid-30ties, more than 65% of all men will start losing their hair. And even more demoralizing: before they reach their 50ties more than 80% will have a significant amount of thinning, showing the skin of the scalp through the hair.
Men that have the hair loss gene, who have, in other words, a genetic predisposition for male pattern baldness, are sensitive to DHT – dihydrotestosterone, the hormone that will eventually be the cause of entire hair loss. Well, actually not entire hair loss, because the hair at the back of the head and lower sides is not sensitive to DHT and therefore will not be affected by it. This hair is the so-called permanent hair. DHT has no impact on these hairs. That is what makes them so ideal for hair transplantation.
At this moment, hair transplantation is the answer to hair loss. Hair follicles are being relocated to the balding and receding parts. The surgeon will take the hair follicles from the back of the head, the donor area and relocates them to a bald spot on the scalp. And because the transplanted hair is taken from a DHT-resistant area, the hair won't be affected by the DHT-hormone and so the transplanted hair won't fall out again. In the future, there might be alternatives to taking the hair from the donor area. Hair cloning will become another possibility: Hair Transplantation 2.0.  But the development of cloning hair is still in its early stages and still seems a long way to go.
On the contrary: Hair Transplant is very affordable
Still, the techniques of hair transplant have already come a long way. And especially in countries like Turkey, that are famous for their craftsmanship and technical skills, hair transplant has developed into a professional business that is within reach for almost anyone suffering from unwanted baldness. The costs of hair transplantation vary from country to country. In Europe, the USA, Canada, and Australia the cost per graft would be between 3 EUR to 7 EUR. If you would need approximately 3,000 grafts, it would mean the total cost would be between 9,000 EUR to 21,000 EUR. A costly operation.
But as we said: hair transplant has developed into a professional business that is within reach for almost anyone suffering from unwanted baldness! Hair transplantation is no longer only for the rich, no longer only for celebrities.  Men like lawyers, doctors, businessmen or men with an average income can have their hair back. If you are willing to travel, a top quality state-of-art hair transplant is possible at very affordable prices. Performed by surgeons whose experience exceeds their European and American colleagues by far.
Turkey is now one of the top destinations for hair transplantation. Because of the daily routine of performing hair transplantation the quality and the result of the treatment is among the best in the world. Most of the hair transplant surgeons in Turkey have already performed thousands of hair transplant surgeries in their career. Some of them have chosen to focus on hair transplantation instead of performing a wide range of cosmetic surgery. And we believe it is this focus on just one aspect of cosmetic surgery, that in the end will make the difference in quality.
So not just for the happy few that earn a better buck can regain their hair, everybody can. That the prices are relatively low has several reasons.  Such as, cost of labor is cheap and the rent expenses are low, to name but a few of other factors that make hair transplant so affordable and therefore Turkey such an ideal destination for your hair transplantation.
Is having your Hair Transplantation abroad a hassle?
Actually no, no hassle at all. Of course, traveling to a different country to have a hair loss treatment means you will have to make preparations. You will have to arrange flight tickets, accommodation, airport transfers and most probably also interpreters, to understand and make yourself understood. But most of these burdens are taken care of in the packages provided by hair transplant clinics in Turkey.
We are such a company. In fact, MCAN Health is one of the better-known all-inclusive hair transplantation package providers in Istanbul, Turkey. We understand the difficulties of someone traveling abroad to have a medical treatment such as hair transplantation. So, we take care of every detail of a patient coming from abroad. We guide the patient for a visa and flight ticket. We include airport transfer, hotel, city tour, transfers between the hospital and the hotel, 24/7 reachable patient host and even flight ticket in the packages. A man suffering from hair loss who wants to solve his problem only needs to contact and send us some head pictures for an online consultation. Our MCAN Health contracted surgeons will provide a treatment plan, we will check your availability for the procedure and then organize every detail of your medical journey from A to Z.
An affordable price brings a treatment abroad within reach for everybody and using a reliable package provider will take away all your worries. MCAN Health, Istanbul, Turkey, will give you both because we believe a Hair Transplant Surgery is for everyone.
---