Love Island Reunion 2021: Before and After of Plastic Surgeries
Who doesn't enjoy watching the frenzy of infidelities, disputes, burning passions and back-stabbing in Love Island? The sweet turmoil of youth's desires! The show makes the headlines of all mainstream media in the UK. And, not surprisingly, the news is mostly about Love Island plastic surgeries – the esthetic operations the islanders have allegedly (or not allegedly) had. 
Love Island before and after pictures of Anna, Megan or Faye have dropped jaws to the ground all over Britain. And how not? Their transformation is simply astonishing. As the new season has begun, our surgeons at MCAN Health have taken some time to reveal the islanders' beauty secrets.
Love Island Before and After 2021 Reunion
Love Island 2021 has barely started and controversy is already shaking social media. Lillie has been rejected from Casa Amor, Kaz and Tyler have been left uninvited, fans are outraged by what many call 'disrespectful' and 'awkward' scenes. But is there such a thing as bad publicity? Of course not! Boredom is not an option in Love Island, and we are expecting things to get very crazy, very fast.
Which Love Islanders Have Had Plastic Surgery?
If you are not one of our surgeons at MCAN, you might be quite unsure about Love Island Plastic surgeries. After all, great surgeries are performed in such a way that they look natural enough not to be recognisable! That's the result the best doctors strive to achieve. Luckily for our curious readers, we have done all the study and research for you.
Anna Vakili Plastic Surgery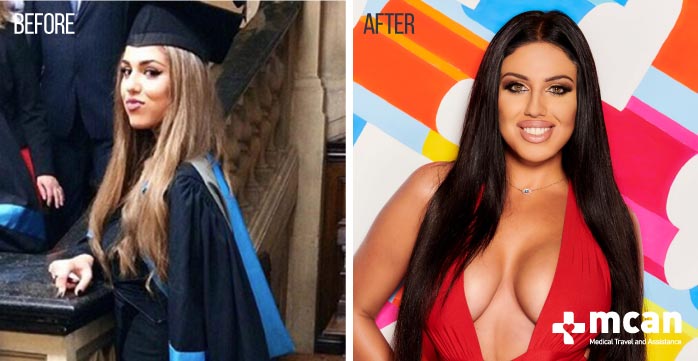 Since her first appearance on the show, Anna has attracted the attention of islanders and fans alike with her eye-popping E-size breasts and her wide Kardashian curves. Anna Vakili from Love Island before surgery looked quite different though. What did she do to change her appearance? Ever since 2016, our surgeons can spot at least 2 plastic surgeries, other than her famous breast augmentation with implants:
Firstly, an obvious Ana Vakili BBL (Brazilian Butt Lift) operation granted her XXL buttocks. No question about it! 
Secondly, it seems clear that her face has undergone several fillers and facial injection procedures, definitely on her lips, but also on her cheeks, jaw and chin.
Megan Barton Hanson Before and After
The Megan Love Island surgery is a clear example of how a plastic operation can drastically change one's appearance. After the show, the leaked images of Megan love island before surgery created quite a stir in social media. Megan even declared becoming 'obsessed' with reading Instagram comments, and even regretted not going to therapy.  
Social Media can be a nasty place, and Megan's surgeries certainly created quite a site. The reality-TV star admitted getting her boobs done, along with a rhinoplasty. She has been more silent about her lip fillers though, and her dental veneers! You cannot hide from our MCAN watchtower, Megan!  
Hannah Elizabeth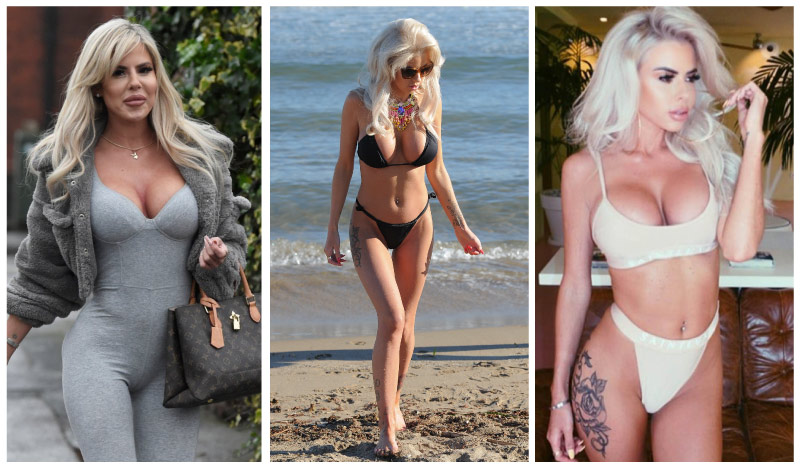 Years after her Love Island adventures, Hannah Elizabeth is still a social media phenomenon. Her pictures on Instagram get praised by thousands of her 400,000+ followers. No one could deny this is partly due to her plastic surgeries, which include:
1. A boob job. 
Indeed, Hannah got a breast augmentation and uplift. Some say she got two boob jobs!
2. Lip Fillers and facial injection
No surprises here. Hannah looks like a total Barbie, and that cries out facial injection!
3. BBL
Hannah love island before surgery did not have the buttocks she now generously shows off to her fans. The reality TV star admitted undergoing a Brazilian Butt Lift after she started disliking her bum.
Faye Winter Before Cosmetic Surgery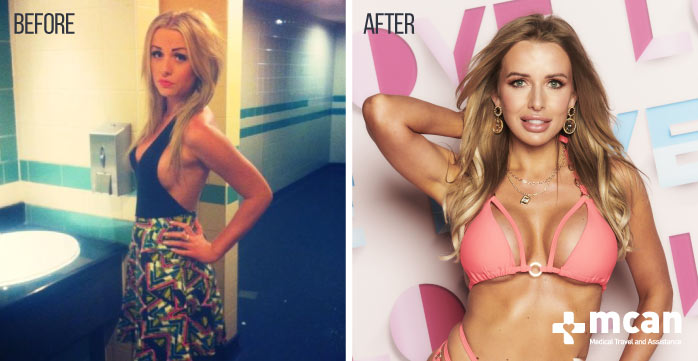 Faye has also been very open about her plastic surgeries, alleging 'no one should go through life feeling insecure'. Many fans still remember how crazy she went after Hugo Hammond told her and Sharon Gaffka he was not keen on 'fake girls'. No one is keen on your lack of sensitivity, Hugo!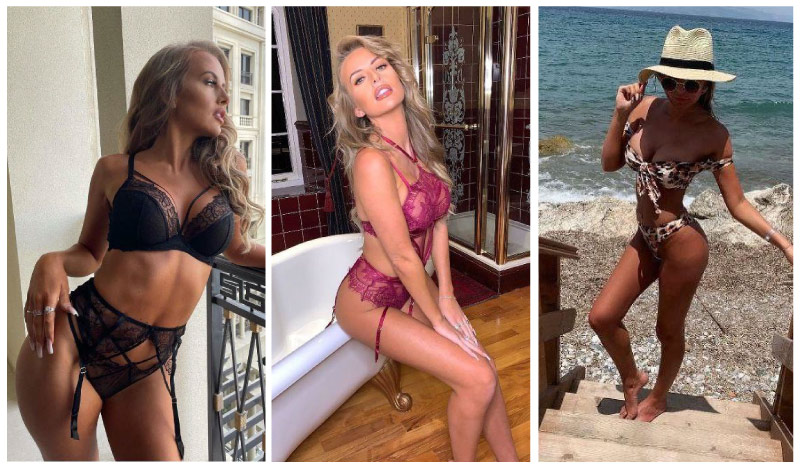 But let's not gossip, regardless of how tempting it is! We are here to write about Love Island plastic surgeries! Our surgeons believe Faye has gotten lip fillers, which is undeniable! also a boob job, and certainly a facial injection. How did they reach such conclusions? By checking out Faye love island before surgery pictures.
Ellie Brown Plastic Surgery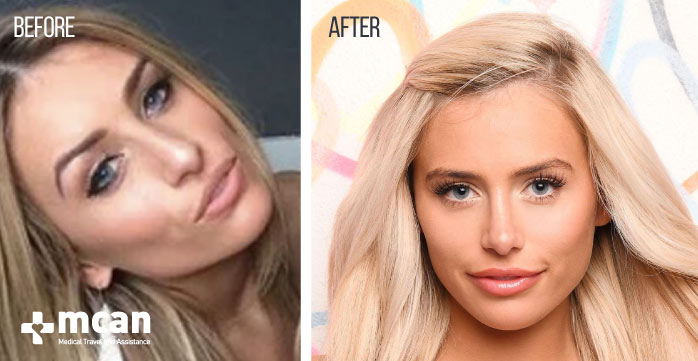 Ellie is one of the many islanders who have not publicly admitted to having undergone surgery. Yet she seems to have changed a lot since her Love Island time in 2018! 
Pictures don't lie, and our surgeon's expertise does not either. Here is what they have to say about Ellie:
1. Lip Fillers
Ellie is certainly more discreet than most islanders when it comes to surgeries. Her operations have been subtle, yet noticeable. This can be spotted by looking at her lip changes in a few years.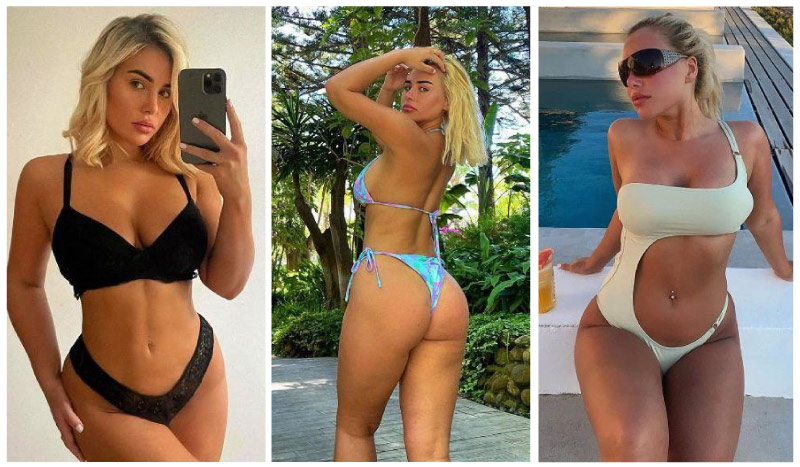 2. Cheek-Bone Fillers
Many of us would not notice this one either, but our experts seem to agree on it. Cheek bones are barely thought of, but they can change your looks for the better!
3. Rhinoplasty
Oh yes. Ellie's nose has certainly been reshaped since 2018. Notice the tip, the slight Barbie doll touch? 
Check out our Ellie Love Island before surgery pictures and tell us if you agree with our surgeons.
Amy Hart Surgery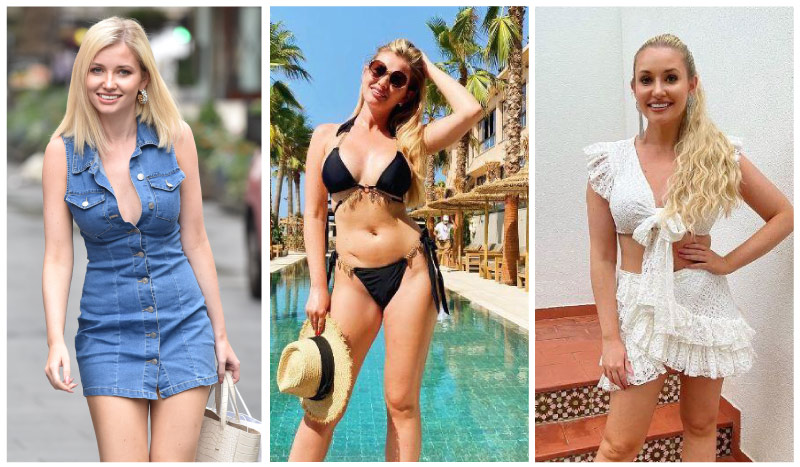 Amy Hart has spent so much time and money on plastic surgeries that she even declared fearing addiction! It is great how open she is about it. Amy love island surgery has not been limited to dental veneers (which she got for a whooping 650 GBP per tooth!), but also a boob job and hair extensions. And now she is going for a career in theatre. The stage will look brighter with you on it, Amy!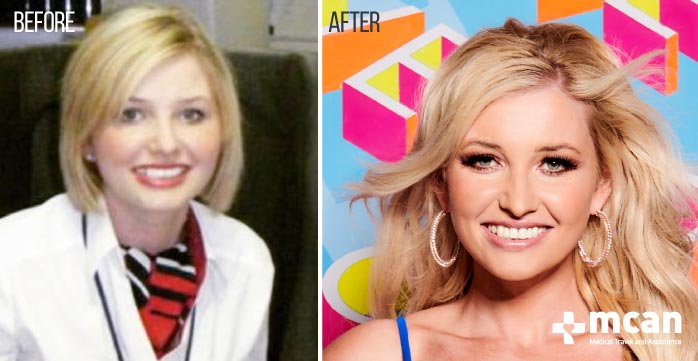 Get the Look of Your Dreams
with
MCAN Health 
Beauty doesn't just happen. You have to want it. Even the most beautiful women out there get plastic operations to better their appearance. Love Island plastic surgeries are the proof. 
You can make the most out of your journey to Istanbul by getting a plastic operation like the islanders, while discovering one of the most beautiful and unique cities in the world. In MCAN Health we offer all the best procedures, excellent patient host services and treatments with top-notch doctors. For us, Beauty is for Everyone!   
Mehmetcan Kotil Medical Content Expert
Mehmetcan is MCANs Digital Marketing Manager and Content writer who has taken roles in medical tourism for years and created written materials for healthcare provider's websites.
Updated Date: Tuesday, September 14 2021
Published Date: Monday, July 31 2023