Celebrity Hair Transplant Stories and Before and After Photos
They are all famous… They are all successful… And they all had a Hair Transplant. Hair loss affects many men globally, also celebrities! There is no shame in having thinning hair problems and getting a permanent solution to that: Celebrity Hair Transplants. This is what most famous people do nowadays.
As men get older, they experience hair loss, namely male pattern baldness. For some men, baldness can even start in their 20s or 30s. Losing your hair can be a distressing situation, you are not alone!
A lot of famous men started proudly talking about their hair loss problem, like David Beckham, Wayne Rooney and Mel Gibson. And they all had Hair implantation surgery. But of course, hair transplant is not exclusive for celebrities or rich ones.
Thanks to cutting-edge technology at affordable prices, hair transplant is now more accessible than ever before. On top of being pain-free, a Hair Transplant offers a permanent solution to baldness. If done properly, the transplanted hair will never fall out.
Celebrities with Hair Transplants
Here are some famous people who had Hair Transplant as the permanent solution. Their stories will surely inspire you to seek treatment for your baldness. We have also covered each celebrity hair transplant individually in a blog piece:
Elon Musk Hair Restoration
Elon Musk, known as the Richest Person In History, is surely one of the greatest geniuses of our time too…These two factors are enough to make him a star and special celebrity to follow and watch! Despite his fortune and hard work, Elon Musk receding hairline started at an early age.
Our experts believe Elon Musk Hair Transplant took place at least twice. And he also had a very successful hair operation. Looking at his before and after pictures, his change is incredible.
We are sure that Elon has spent the highest price on his hair plugs and this makes this operation one of the most famous hair transplants of history! but FYI you can restore your hair in Turkey at the most reasonable price.
David Beckham Hair Implants
David Beckham, the former British football player, current businessman and UNICEF Ambassador is certainly a popular and famous celebrity of our time! 
David Beckham had been dealing with his hair loss problem since he was a young football player. He was trying to hide his receding areas with different hairstyles. But the very good looking celebrity finally decided to save his hair before it was too late, with a Hair Transplant. Read all the story about David Beckham hair transplant here. 
Jimmy Carr Hair Transplant
Unlike what we expect from him, Jimmy Carr hair transplant is not a joke! Yes, he seriously admitted he had a hair replacement during the pandemic time! Jimmy Carr as a celebrity said he wants to look good in his routine life as much as the time he is on stage! Jimmy Carr Hair Transplant Before and After Photos reveal that he made a good decision!
Lewis Hamilton Hair Restoration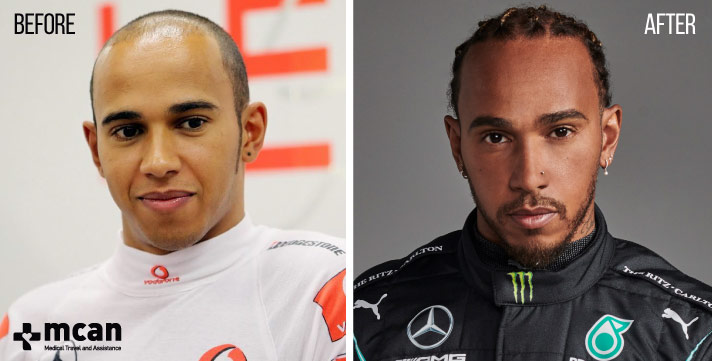 Lewis Hamilton Before and After Hair Transplant.
For a young and successful celebrity like Lewis Hamilton, wary about his outfit and hairstyle, hair loss is a big issue.
Androgenic Alopecia, high stress and probably constant dread hairstyles were the reasons for the Lewis Hamilton Hair Transplant.
However, the famous athlete never admitted that such a hair transplant ever happened and said that non-surgical treatments actually restored his hair!
Joe Biden Hair Transplant
One of the most interesting famous hair transplants is the Joe Biden Hair Transplant Story. As a politician with more than 40 years of active experience in politics, Joe Biden had his first hair transplant around 30 years ago. Doctors believe Joe Biden has had at least 3 hair transplants.
Gordon Ramsy Hair Restoration
Gordon Ramsy, the British celebrity chef never admitted his hair transplant, but you do not need to be an expert to see the difference between Gordon Ramsy Hair transplant before and after photos. 
The first rumours started in 2010 when he was always wearing a cap to hide the newly implanted grafts.
Wayne Rooney Hair Transplant
Wayne Rooney, the English football phenomenon, experienced hair loss before he was 25. He was brave enough to talk publicly about his Hair Transplant choice. After the Wayne Rooney Hair Transplant took place, he suddenly tweeted to his fans to confirm that he had a hair transplant.
David Silvia Hair Implants
This famous hair transplant story is really worth hearing. David Silvia hid his receding hairline very well so that for a long time no one even could say he was losing hair! Even after the David Silvia hair transplant, he kept his hair short on both the recipient and donor area. But after a while, his fans finally saw him with a head full of hair!
Other Hair Transplant Celebrities Before and After
In the following, you can briefly read some other famous hair transplant stories and their photos. All in all you need to remember if you are facing hair loss you are not the only one!
Mel Gibson Hair Restoration Before and After
When Mel Gibson was listed as People's sexiest man alive in 1985, most probably he never thought that he would lose his hair in the upcoming years. Mel Gibson, one of the actors with hair transplants started to have a receding hairline around 2006 and soon after he had a hair restoration to remain a sexy celebrity star in everyone's mind! He confirmed that he had his hair transplant and he was very happy with his new appearance.
Joe Swash Hair Transplant Before and After
Joe Swash, the East Ender's Actor, is among the celebrities who honestly shared his experience of hair transplant. He had a hair transplant in the early days of his career. "It was for myself and something that I wanted to do, to make me feel better. I was on TV so that might have had something to do with it," he said in one of his interviews. "With the job I am doing, being on TV, I want to look my best, which is probably not the best way of thinking about it. It's how you feel personally."
Louis Walsh Hair Implants Before and After
Louis Walsh Hair Transplant – one of the judges of X-Factor, he has always been open about his hair transplant and even made jokes about it. It is also well-known that he has spent a fortune on his hair transplant. A fortune worth around £30K! The question here is: WHY? Instead, he could have had a high-quality hair transplant with us at MCAN for an affordable cost and donate the rest of the money to charitable causes!
Hair Transplant Is Possible for You Too!
As you can see, hair loss can affect any man from any background. And it is not a result of something you did wrong or your failure. It simply is about genetics. Hair loss and balding may cause unhappiness, stress, anxiety, and even some psychological problems. But gladly, it is not irreversible. There is a permanent solution to your hair loss and balding problem. And this solution, a Hair Transplant in Turkey, is pain-free and affordable.
Could you ask for more? Then, why would you wait for another second? You can find out the number of grafts you can get and have your personalised treatment plan. Do not worry, your initial consultation is 100% free. We do not charge for it! Now, you do not have any excuses not to contact us ☺ We are looking forward to hearing from you!
Are you interested in a hair transplant for yourself?
You can get more information and have a free online consultation whenever you want!
Mehmetcan Kotil Medical Content Expert
Mehmetcan is MCANs Digital Marketing Manager and Content writer who has taken roles in medical tourism for years and created written materials for healthcare provider's websites.
Updated Date: Thursday, November 4 2021
Published Date: Thursday, August 31 2023