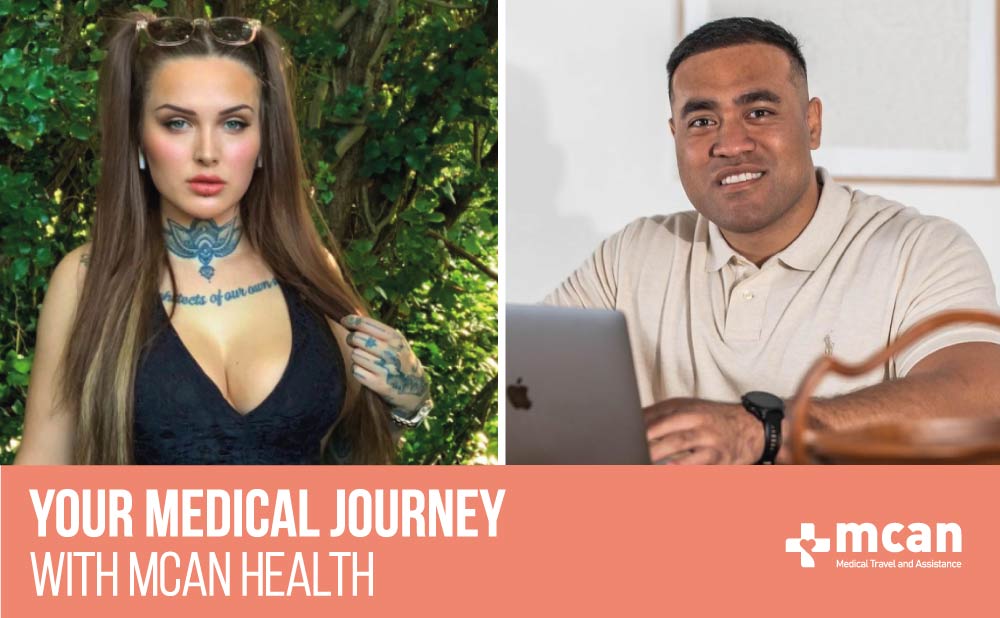 Going through an esthetic surgery operation is a big decision just as it is, even more so if you consider traveling abroad for the procedure. At MCAN Health, we are aware of how intimidating the prospect of getting surgery in a foreign country can be. This is why we have developed a concise plan for our patients to enjoy their experience without any extra worries!
MCAN Health's Esthetic Journey 
In order to give you the clearest idea of what the whole process looks like, we will illustrate the complete step by step medical journey from the point of view of two of our former patients. This way, you will get to know all aspects of MCAN's medical experience through Layna, who came to Turkey for a combined rhinoplasty, liposuction and bichectomy, and Caleb, who got a hair transplant with MCAN Health in Turkey. 
1. First Contact
Layna and Caleb did a thorough research and found that MCAN Health does not only provide outstanding medical services, but offers them at a remarkable price. They sent us their contact details, we listened to their requests and established a personalized medical plan. When their decision was made, we organized their whole stay in Turkey according to their preferences regarding treatment and hotel accommodation! 
2. Arrival in Istanbul
Layna and Caleb were welcomed by their personal driver at the Istanbul airport exit, the most modern airport in Europe! They enjoyed their first encounter with Istanbul, the city bridging two continents, and they arrived at their hotels to enjoy a good night's rest before their operation!
3. Operation Day
The following is usually the operation day. Layna and Caleb went through the protocolary medical tests, they met their surgeons in their respective medical facilities, and were taken into the surgery room after a final medical consultation. The moment they had been waiting for had finally come! 
4. Recovery Time  
A hair transplant does not require any general anesthesia, so Caleb was able to return to his hotel on the evening of the operation. Layna remained in her private hospital room until her surgeon confirmed she was in favourable conditions to return to her hotel. All the while, they were taken care of by our MCAN nurses, who continued visiting them at their hotels!
5. Leisure Time!
Depending on the type of surgery, the recovery progress, and the time in Istanbul, many of our patients don't miss the chance of going out and discovering the many wonders of Istanbul! MCAN Health remains by your side at this stage too, organizing tea parties and city trips to show you the best places around!
6. The Goodbye 
When the moment came, Layna and Caleb were driven to the airport for their return flights. But this was not a goodbye! We remained in contact with them for the following 12 months, regularly checking on their progress and asking for their news. As Layna said, "MCAN Health isn't just a clinic, they become your friends and family. You form such a beautiful bond with your advisors, your surgeon, and even your taxi drivers." Patients like Layna make this profession worthwhile!
Caleb and Layna's Before and After Photos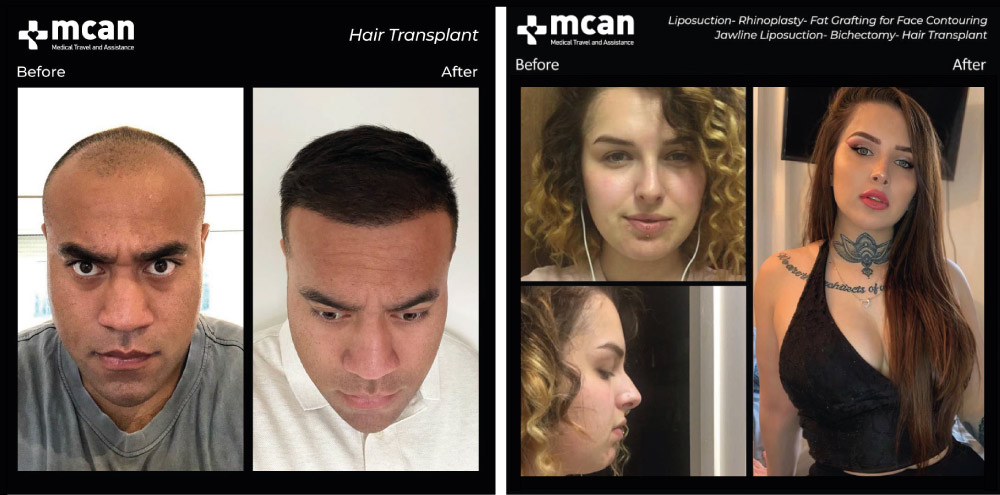 At MCAN Health, we want to meet YOU
MCAN is formed by reliable professionals, reachable at all times and readily available for you. Layna and Caleb knew beyond any doubt that they would be taken care of in Turkey. They chose us from countless other options for this exact reason. And they were not disappointed. 
If you want to know all the specifics about MCAN Health and our patients' medical travel experience in Turkey, we will be happy to give you all further details! Feel free to contact us via your personal Case Manager, social media, e-mail or through our website! At MCAN Health, we want to ADD VALUE to your life, and move towards your goals together! 
---
---